We left Saba bright and early, just after the sun peeked up over the horizon. Our plan was to sail to St. Kitts, arriving by around 6 that evening. Today was the day that we really learned that plans need to be flexible.
We motored away from the island of Saba to get away from the gusty winds. We decided to put out just our genoa since the wind was strong and the seas were rough. We got as close to the wind as Salt Whistle would allow us, but we couldn't get a straight heading for St. Kitts. Only minutes after putting our sail out, the motor died. Not this again!!! Thank goodness we had a sail out, because it would have gotten very scary if we ended up beam to the huge waves! At least having the sail meant some forward momentum and control of our steering.
Skeeter went down below to troubleshoot our problem. He decided to change the secondary fuel filter, since that was the only part of the fuel system he had not recently changed. Sure enough, that was our problem. After that filter change the engine ran nice and smooth.
Up ahead in the distance, the sky turned an ominous shade of black. We decided to furl in the genoa and motor straight for St. Eustatius (Statia), the next closest island that marked the half way point in between Saba and St. Kitts. We did NOT want to get caught in this squall. Unfortunately, given our many problems and struggles in Saba, we did not have an up to date weather report. We just knew we were ready to get the hell out of there. So we didn't know what kind of storm we were getting ourselves into.
The front of what we thought to be "just a squall" hit us. 40 knots of wind with gusts of even more, then a painful wall of water. The raindrops felt like ice cold pins and needles stabbing into us. Oh, how we were wishing we had a dodger (windshield) so we didn't have to take the weather in the face like this. The waves got up to 10 foot (meaning 20 feet from trough to crest), and then the space in front of us went completely white. We couldn't see a thing, but could hear our hearts pounding over the sound of the howling wind, the splattering rain, and the breaking waves pummeling us in the face. We reduced speed to where we could still steer, but were not making forward progress.
When we passed the front of the storm (which we later found out was a gale force tropical wave) and we had about 100 feet of visibility we saw a dense blanket of fog over the surface of the water, rising up from the cold rain hitting the warmer sea water. We had never seen this before, other than on "Pirates of the Caribbean." The rain was still coming down, and the waves were still crashing. We were literally shaking from the freezing cold rain, despite the fact that we were in the Caribbean in the summertime. You know you are freezing when 80 degree sea water being splashed on you feels like warm bath water. Our predicament was both scary and miserable. Some decent foul weather gear will definitely be something to add to our wishlist.
We had a short break from the rain and sped up to make progress toward our revised destination, then a second squall (tropical wave) hit us. We were only about 4 miles out from Statia. We had been able to see the tall volcanic island since the first storm let up, but then the rain came down in sheets and it completely disappeared from our sight. So close, yet so far away. We had to ride the storm out without getting too close to the island. Trying to approach in almost zero visibility would have been ludicrous. We could have collided with any number of hazards. That last 4 miles took us 3 hours. It was the most miserable, freezing, and terrifying 3 hours for us so far as sailors.
No actual damage was done, though it did give us quite a scare. We thought we lost our dinghy motor cowling (though it obediently fell off right into the dinghy itself), and we thought we lost 3 of the 5 caps to our water jerry cans because the genoa sheet unscrewed them (though we found them in the gunnel).
Biggest lesson learned: NEVER HEAD OUT TO SEA WITHOUT AN UP TO DATE WEATHER REPORT!!!
Equipment we need to get soon: Foul weather gear, a dodger, and a SSB (Single Side Band) Radio (auto pilot would be very nice, too!)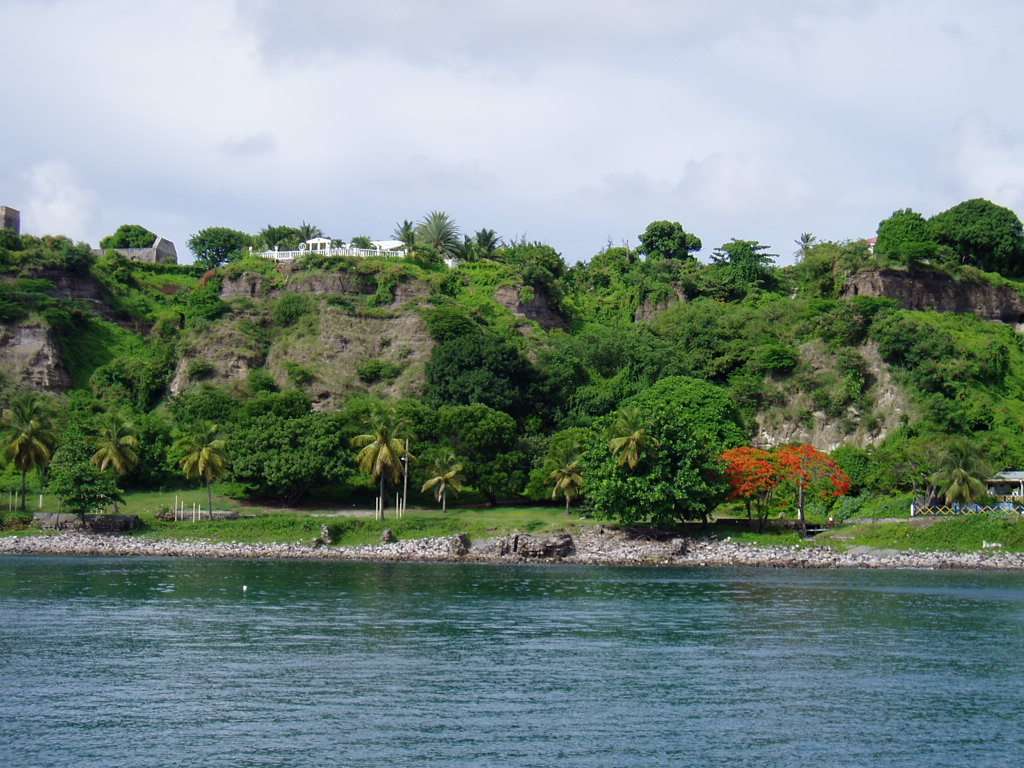 Statia is a beautiful island, but the one and only anchorage, in Oranjestad, was a miserable one with the current sea conditions. The wind and the swells were coming in from different directions, and we were beam to the swells. At times there were 2 foot swells in the anchorage, and we were rocking so hard from side to side that we were once again miserable and exhausted.
We made 5 different attempts at setting a stern anchor so we could sit facing the swells, but each and every time the anchor would drag from the excessive up and down motion of the swells and the swinging of the variable winds. We couldn't stand or walk around without getting beat up, bouncing off walls like balls in a pinball machine. We couldn't even put anything down because it would just go flying across the boat. Our bed was soaking wet from the horizontal rain and waves crashing in through the cockpit, past the drop board, and into our aft cabin. We had no choice but to (attempt) to sleep in the salon. The violent rocking from side to side and the many loud banging noises made it very hard to sleep. I ended up sleeping on the floor after the whole settee slid out with me on it.
..I didn't want to fall and crush Momo!
One major advantage of Statia over Saba was that the dinghy dock and access to land was close by. We tried to get our feet on solid ground as much as possible, and even took a nap on a park bench to try to make up for lost sleep aboard. It was such a relief to get off of the boat.
We made it up to Fort Oranje
You could see the wind howling
Watching Salt Whistle bob from side to side
I tried unsuccessfully to hide the exhaustion from my face
This cannon fired the first foreign salute recognizing the USA's independence in 1776
Statia is a beautiful island with rich nature and history, but we did not get to enjoy it to its fullest due to our exhaustion and shattered morale. I wanted to take Skeeter hiking into the crater of the big volcano, called the Quill, but we barely had enough energy to even walk around town. We were exhausted and crabby and about to give up on the cruising life after an entire week of no sleep.
We are desperately hoping our next crossing is uneventful, and that our next anchorage lets us get some much needed rest!